Get this printer FREE! with any $200.00 minimum purchase!
details
1 in 4 businesses lose $50,000 to fraud(1) - No More!
The HP 1000iMX Stealth Ultra-Secure MICR AND Invisible Ink printing system will allow you to print complete checks with invisible security features that are personalized and unique to every check you produce (see details). Stealth iMX combined with VersaCheck's DNA Secure software result in check printing so secure that checks are nearly impossible to reproduce. No other check printing system available today can even come close!
NOTE: The system also enables you to print both visible and invisible barcodes in one print pass to add tracking and hidden (Stealth) authentication. Stealth CodeScan barcode scanners allow you to simultaneously read and process visible and invisible 1- and 2- dimensional barcodes. Watch the video
Completely safe and environmentally friendly, Stealth iX ink is UV fluorescent and glows visibly when exposed to Stealth™ iX UV display lights (3 included - click here for additional)
HP 1000iMX Ultra-Secure Check Printer
1 VersaInk-nano HP 61MS - Black - 4X Life Ink Cartridge - MICR Compliant
1 VersaInk HP 61CiX Stealth™ Inkjet Cartridge - Invisible Ink Cartridge - Replaces Color
3 iX Stealth™ UV Display Light Key Chains
Reusable tote
VersaCheck Presto* Software
*VersaCheck Presto requires use of VersaCheck checks.
Internet access required for online features and account validation
Includes financial account validation (Allow 3-5 days to process)
*USB printer cable NOT included
Printer drivers included for: Windows® 7, Windows® Vista (32-bit & 64-bit),
& Windows® XP (SP1 or higher [32-bit]).
Stealth™ iX users also buy: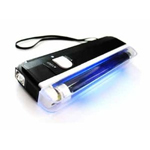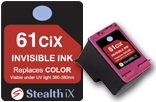 *Fluorescent light emission intensity may vary with paper/media surface treatment
*USB printer cable NOT included
(1)Small Business Fraud Custom Study among Small Business Owners Conducted for SunTrust Banks/National Small Business Association/Edelman, October 17, 2007.