The "All-In-One" Forms Package for all your business form needs!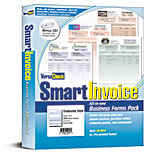 SmartInvoice All-in-one Business Forms let you quickly create attractive, professional business documents including invoices, estimates, quotes, statements and purchase orders.
These precision printed forms work with Quicken, QuickBooks, Microsoft Money/Office, MyDeluxe Invoices & Estimates, VersaCheck Platinum, VersaCheck Ultimate, VersaCheck Quick Accounting,
VersaCheck SmartInvoice X1
, and others.
SmartInvoice blank business forms come in handy 250 sheet packs on high-quality 24lb paper.
Available in blue, green, burgundy and tan -- color graduates from top to bottom.
Click on a form below for a detailed view.
Blue
Green
Burgundy
Tan
Graduated Design